Mentoring
Site Based Mentoring (SBM) is a structured weekly mentor relationship offered in sites across Niagara County. Sessions are weekly in small groups for 45-60 minutes. Youth ages 6-16 are eligible.
Some groups are push-in meaning in an existing after school programming. Others are stand alone and are not associated with other agencies. Stand alone programs have open enrollment. In order to receive programming, the child must be part of one or more of the following family dynamics: low-income, single-parent, grandparent head of household, and/or incarcerated or deceased parent. Below you will find a breakdown of the 2016 – 2017 school year program:
Emmet Belknap Intermediate School
Push-in YWCA After School Program
Newfane Middle School
Newfane Elementary School
Carolyn's House
Stand alone
Girls to Women (G2W) at Lockport Library
Stand alone
79th Street School
Push-in Boys and Girls Club
Niagara Falls Boys and Girls Club
Salvation Army
Push-in Salvation Army

Please review (social and emotional learning– link) for information about what children learn in SBM.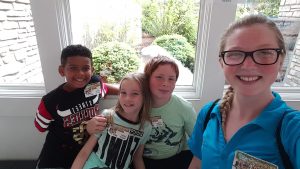 Real Stories/Quotes from Mentors/Mentees