Social Emotional Learning
WHAT IS SEL?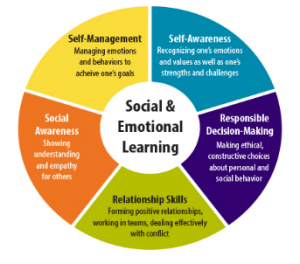 The five core competencies of social and emotional learning include: self-awareness, self-management, social awareness, relationship skills, and responsible decision making. When taught these competencies, children's Emotional Quotient (EQ) will likely increase.

WHY DOES IT MATTER?
Youth who receive social and emotional training typically demonstrate:
High self-esteem and reduced anxiety1
An increase in academic improvements1
Increased attachment to school1
Improved behavior observed by teachers2
1 Yale University Research: Ivcevic, Rivers & Brackett, 2004
2 Preliminary RCT findings (final report in progress…Grissmer, 2016)
We measure youth success using research proven methods to ensure we are making an impact.

EXAMPLES OF TOPICS COVERED
Growth Mindset
Effective Communication
Self-Esteem
Empathy/ Perspective Taking
Anger Management
Mindfulness
Money Management
Healthy Living
Relationship Building
Problem Solving

High Five Impacts Our Community
Writing cards to the elderly
Designing gifts to donate to low-income families
Creating post-cards for sick children
& so much more!